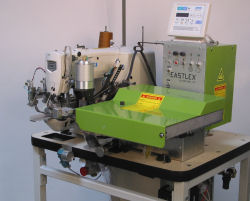 You can never go wrong with Eastlex Machine Corp. Founded in 1956, the company has built countless garment manufacturing machines and tools. Thousands of clients have ordered their units throughout the years and were satisfied with the quality. Additionally, the machines have increased the productivity rate of the clients' garment businesses.
Here at Eastlex Machine Corp, we give value in everything that we do. We're never content with standard service. Rather, we love to take the extra mile by fine-tuning our machines according to the needs of our clients. Whenever a client makes an inquiry, we're keen to share the details about our machines. This way, the client will be able to assess what type of machine he needs for the business. While we have had numerous clients over the years, we have a long-standing business connection with YKK Snap Fasteners.
The common machines that you'll see in our repertoire are snap fastening equipment, beltloop attachers, strip cutters, winding tools, production accessories, stamping tools, and punching machines. Upon making any purchase, our representatives will show you how to operate the machine effectively. No details will be left out to ensure that you understand how the machine works.
When it comes to pricing, you don't have to worry. All of our machines have competitive rates to serve the best interest of our clients. We may even give you discounts for bulk orders!
Do you want to reach high levels of growth for your textile manufacturing business? Contact us today and place your order!